RSS Feeds Suggestion - Insert RSS Feed Into A Post Or Blog Sidebar
This is an idea what to do with your best RSS feed. New RSS feeds are being created all the time - wouldn't it be great to DISPLAY a feed from inside your blog? This trick turns your blog into an RSS news reader!
RSS Feeds Suggestion
Lets say you want to display RSS feeds on travel deals in your blog (or add the RSS content to any website).
STEP 1 - Copy the URL of the RSS Feed
At the source webpage of your favorite RSS feed, right click on the RSS link and copy the link URL.
STEP 2 - Create the Javascript to display the RSS feed directly in your blog
Go to
RSSFeeds
and select the
FREE TOOL
"RSS Parser". Paste your RSS link into the Feed URL box. Enter your desired text size (eg.'2'), font (eg.'Times') and table width (eg.'400'). Click 'Generate RSS Feed'.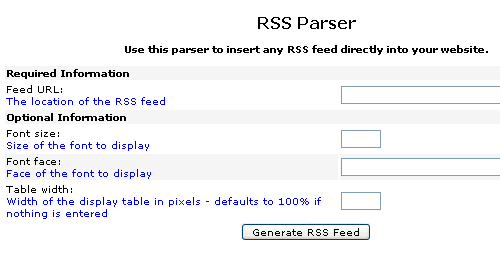 STEP 3 - Copy the Javascript to your blog or website
A couple of lines of Javascript is output. Copy this, and paste it wherever you want to display the rss feed content in your website. It could be within a blog post, or perhaps in your sidebar.
That's it! It's TOTALLY FREE, takes only 2 minutes to do, and works like a dream.
Why I Like This RSS Feeds Suggestion
Using this technique you could make a page of your blog RSS latest news about whatever subject you like - just identify the best RSS feed content, then insert it into your website automatically. The content is updated AUTOMATICALLY every time the page is viewed!